You can call me a connoisseur of sunglasses. I own a vast collection of shades in various shapes – I have a slight obsession. 😎 Sunglasses are the perfect go to statement piece. It adds an element of edge to any ensemble and leaves an air of mystery. "Who's that badass behind the frames?". I love how my Randolph sunnies make me feel rock star chic!
Randolph Engineering is based out of Randolph, MA, and they are renowned for producing high quality eyewear for decades. They've supplied their frames to the military dating back to the late 70's and have continued to be the 'Frame of Choice' contract till this day for the US Army, Navy, and allied Air Forces abroad. The durability and craftsmanship of their sunglasses speak for itself. Hello, military tested and approved! They're proudly made in the US, and I'm all about supporting local businesses! I absolutely adore anything military inspired.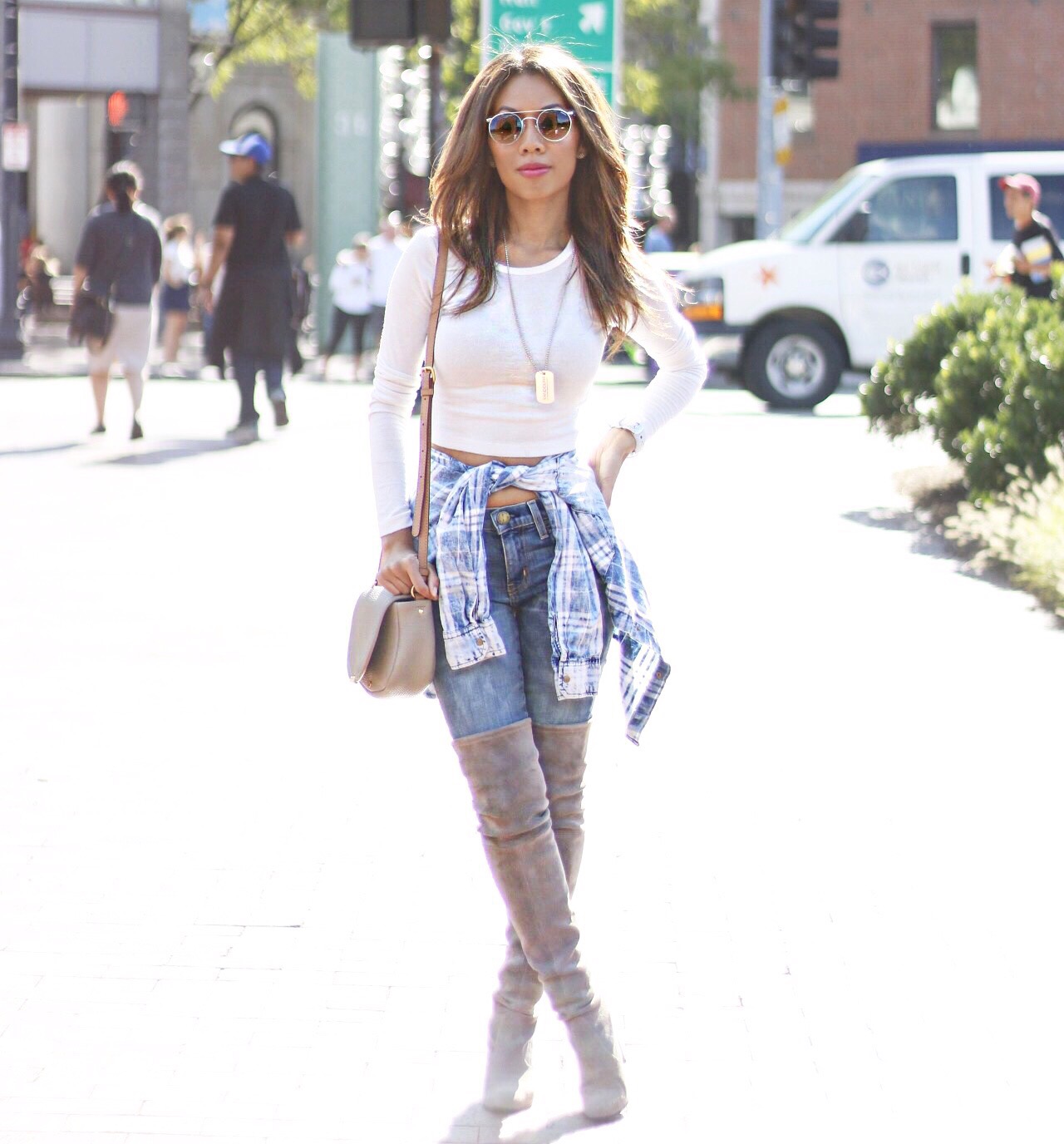 I chose the super stylish P3 Shadows from their new fall collection. I was aiming for a retro rock look with a modern twist. Normally I'd go for the classic aviators, but I felt the urge to go against the grain and switch it up a little. I'm glad I did! I love the rock star appeal and how well the sunglasses framed my face. Fashion is about having fun and taking risks.
I paired my sunnies with the infamous over the knee Stuart Weitzman suede boots in taupe, Current Elliott denim in their low rise 80's cut, and a satin bomber jacket with an embroidered tiger stitched on the back. Rawr! Bold pieces are a great conversation starter. You can purchase the look
here
.
Embroidery is really huge for the fall which was evident on the runways and streets during NYFW! I'm not a huge fan of the floral trend, I know, I am a tomboy at heart. I felt this bomber jacket emblazoned with the tiger was a lot more fierce, a lot more me! Tailor your look to your liking and own it!
Walk the talk…
I didn't realize the strings were undone on my boots. I kind of like that effortless messy-chic look. I'll shamelessly claim that phrase!
Exciting news, loves! I've partnered with the super rad Randolph team to give a few of my fabulous followers a special 50% discount. Enter my code "VibeinStyle50" during checkout. Don't miss out on your chance to own a pair of these timeless frames! I love the strong core values that Randolph Engineering represents which reflects in their work.
Step into fall with a new fresh look! Check out these high profile celebs rockin' Randolph's!
For more information and frame selections, please visit: www.randolphusa.com
c/o and in collaboration with Randolph Engineering, Inc. All views and opinions are my own.