Happy New Year my fashion savvy, sistahs! What better way to embrace the new year than with new outerwear?! I know it can be tedious finding a jacket that fits, functions, and is fashionable. Have no fear, keeping warm and looking cool is effortless when you're rocking Snowman New York  in the frigid winter months.
Don't you hate when you love a jacket, but it's too bulky and heavy to wear and carry throughout the day?! Ain't nobody got time for that! I'm from New England and I know all about the cold; I survived the Boston blizzard of 2015! Hehe. I was surprised how toasty this beautiful jacket kept me considering how lightweight it is!
I've noticed there are not a lot of options in stores and the winter coats are very similar in style or are basic and boring, womp! I want that cool factor with the added warmth. Snowman New York's styles differ in that they are edgy and unique, and did I mention the jackets are very figure flattering?!  Fashionistas, you can still slay without feeling frumpy!
Finally a jacket that fits well and functions without the added bulk! Not to mention, the silhouette is to die for! I mixed my look up with a pop of color. I tend to gravitate towards neutral tones, so I felt the urge to rock this look with my burgundy cable knit sweater. Get this, I purchased it for only $7 during the H&M Holiday sale! I'm a sucker for an awesome steal!!!
Shades of beige…
I bought these classic over the knee boots about 2 years ago; I was sole in love! I don't rock these all the time, but they're still in my rotation. My rule of thumb: try your shoes on before splurging!, this way you can strut your stuff down the street without your feet silently suffering inside! Ladies, you know what I'm talking about! These happen to be so comfortable and it helps that the heel isn't so high.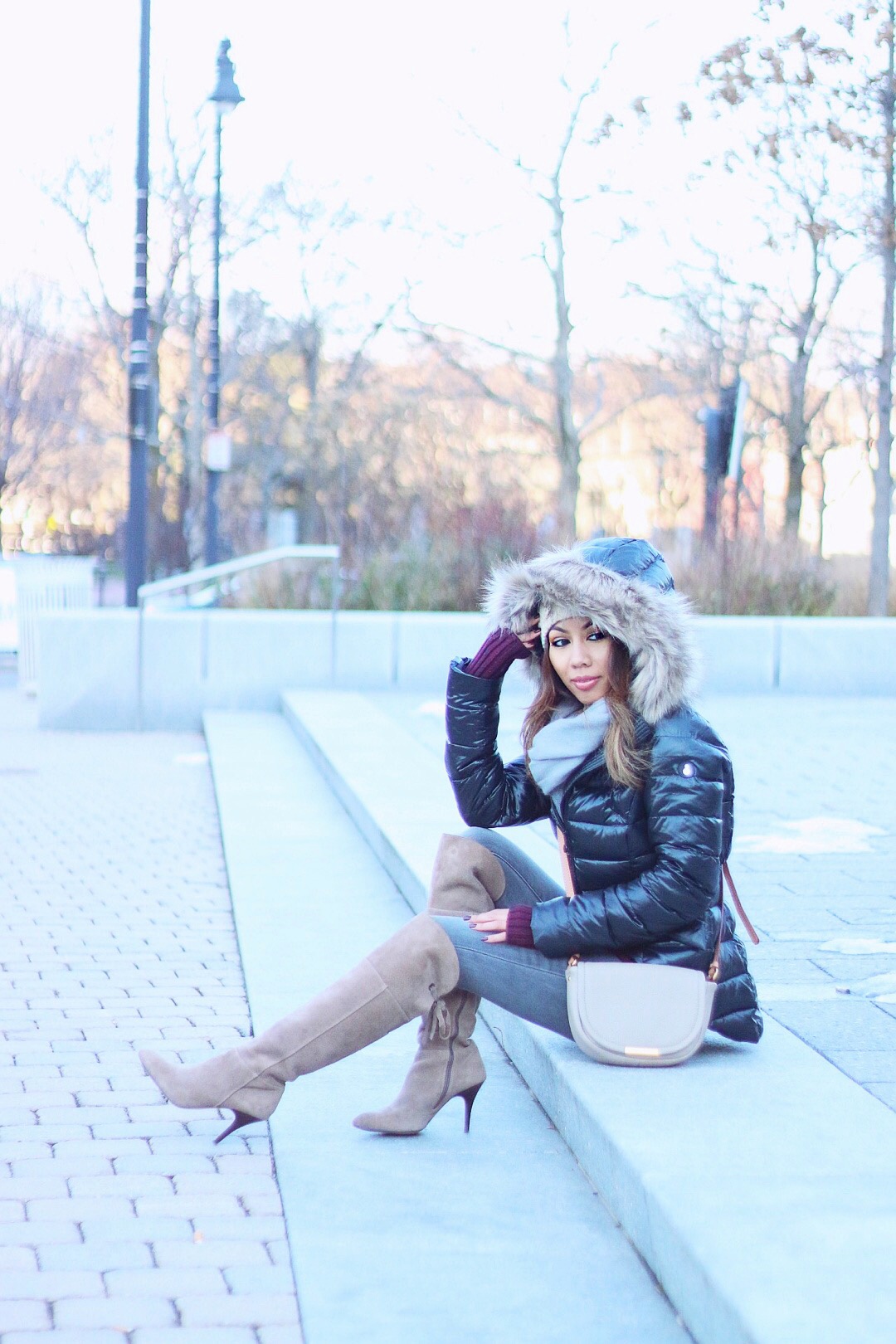 Keep in mind, your winter wardrobe does not have to be boring – add a little kick of color and convey a little of your personality and don't overthink it!
I don't know about you, but I'm ready to combat the cold New England winter with my Snowman New York down jacket! Fashion that serves a function is key in my book.
Use my promo code, "VibeStyle20," for 20% off your order!
Stay cool, darlings!
For more information or to purchase a Snowman New York jacket, visit: http://snowmannewyork.com/